A blower door is a device used to measure the airtightness of buildings. 
It can also be used to measure air leakage between building zones, to locate leaks in ductwork and to help physically locate air leakage sites in the building envelope.
There are three primary components to a blower door:
a calibrated, variable-speed blower or fan, capable of inducing a range of airflows sufficient to pressurize and depressurize a variety of building sizes,
a pressure measurement instrument, called a manometer, to simultaneously measure the pressure differential induced across the face of the fan and across the building envelope, as a result of fan airflow, and
a mounting system, used to mount the fan in a building opening, such as a door or a window.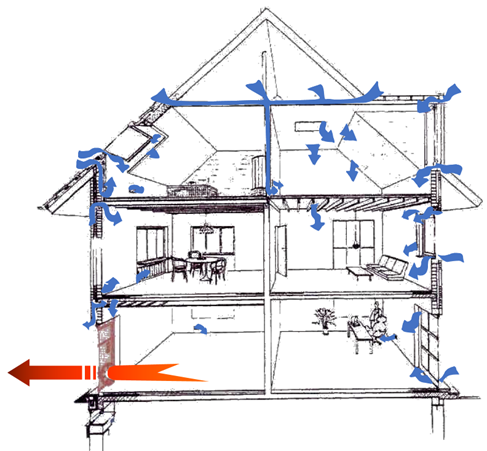 Source: BlowerDoor GmbH
---
References
[1] M. Limb, "Technical note AIVC 36- Air Infiltration and Ventilation Glossary," International Energy Agency energy conservation in buildings and community systems programme, 1992.
[2] "Blower Door Tests | Department of Energy". Energy.gov. 2012-04-02